On this page we have compiled some of our successfully implemented projects for you – from backup solutions to MPLS supplements to international networking via cloud services.
Surely we can also improve your network! Read about it yourself.
Replacement of the outdated IPsec technology
Request:
We have been in the industry for a long time and know all common network technologies. Therefore we also know that the 25 year old encryption technology IPsec, which is still used in the vast majority of VPNs, no longer meets today's requirements and has a number of disadvantages. We have made it our business to find something new – a technology that can do more, that offers solutions to today's network problems.
Challenge:
Enterprise networks are becoming increasingly complex, they must be highly flexible, easily expandable, fast, trouble-free and above all secure. The bar is set high. Optimal networking is becoming a challenge, especially for internationally active companies with numerous locations distributed around the world.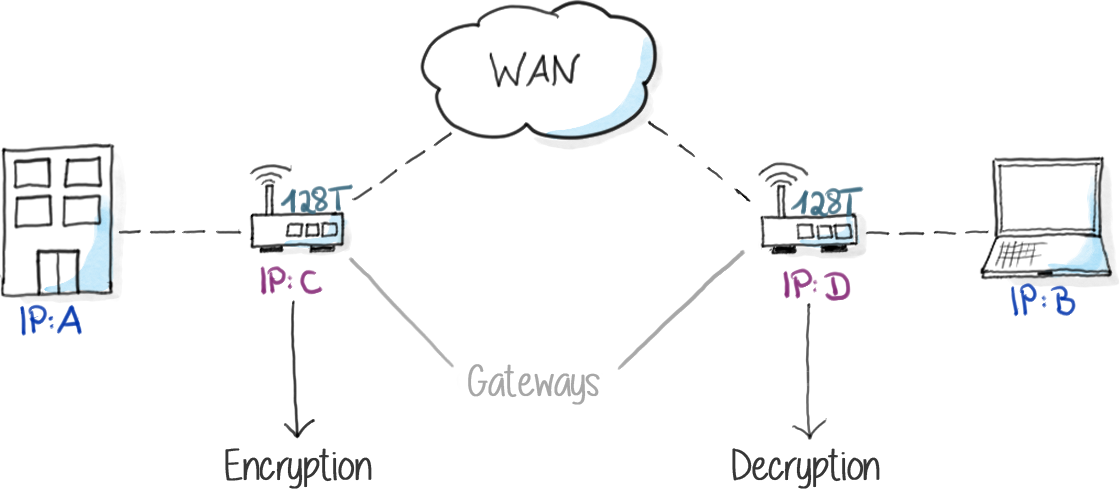 Our solution:
All known network technologies have not convinced us – except for one: the innovative routing software of 128 Technology. We have rebuilt our entire network and now, as Europe's leading partner, we operate the most complex 128T network structure, which makes us experts in this field.
A decisive advantage of this technology for us as a service provider is the extensive monitoring. In case of a malfunction we can react immediately, even before our customers are affected. The so-called multi-line management automatically shifts data to another free line in case of bottlenecks or failures. This guarantees trouble-free operation at all times.
In addition, the entire network can be configured, monitored and expanded via a single interface ("Single Pane of Glass"). This gives us an unprecedented overview of our customers' networks.
Using our specially developed portal, which is an extension to the routing software, our customers can also monitor and expand their own network, making it highly flexible and transparent.
Thanks to the migration to 128T, we have created a secure, fast and fail-safe network that not only we, but also our customers are delighted with.
You can find more information about the portal here.
You can read more about the advantages of 128T technology here.
Papierfabrik Palm GmbH & Co. KG
Tertiary backup for even more security
Request:
The Palm GmbH & Co. KG needed a third backup to protect itself in the event of serious faults in the lines. After all, a production downtime of just one hour would already mean enormous losses in turnover for the company.
Challenge:
Palm already uses redundant MPLS lines from the data center to the individual locations, which now had to be supplemented by another stable line. Monitoring is also necessary to ensure that any disruption to the existing lines is detected early so that the bottleneck can be reacted to directly.
Our solution:
We extended the existing MPLS lines with a backup solution based on 128T. (For more information on this innovative technology, see and read here).
This allows us to establish another stable connection via LTE or an Internet line. By installing the 128T routers in the data centre as well as at the sites, they are networked together via so-called peers. In addition, a further peer from the 128T router to the MPLS line enables constant monitoring of the connection. If one line fails, the system automatically moves to the third line and the data jam is cleared before it becomes apparent to the employees.

Össur – global supplier of orthopaedic products
Request:
Össur is an Icelandic, internationally active company and leading supplier of prostheses and other orthopaedic products. The requirement was to create stable, controllable lines connecting the sites worldwide. First and foremost, this involved a secure connection between Europe and China.
Challenge:
Connections to China usually have high latency and often bottlenecks, so an individual solution is needed to ensure a secure and stable network. Furthermore, with a simple Internet connection it is not possible to control the paths of the data packets. This poses risks with regard to the security of the data.
MPLS lines would prevent these problems, but are cost-intensive due to the numerous and globally distributed locations. In addition, they are comparatively expensive to set up, which also leads to inflexibility when expanding with additional branches.
Our solution:
Our partner Alibaba Cloud is already well networked worldwide and offers the most secure connections. We make use of this advantage by using Alibaba Cloud as a means of transport. So we use our partner's lines to network Össur's branches – for example from Germany to China.
For this purpose, we have installed a virtual 128T router in the Alibaba data center in Frankfurt, which in turn establishes peers (more on peer technology here), via which the individual locations can send data in a secure and controlled manner. This solution is not only more cost-effective, but also highly flexible, as additional branches can be added and integrated into the network quickly and easily. It also offers guaranteed bandwidths, as these can be booked via Alibaba as required.
We were thus able to offer our customer a network solution that meets all the company's requirements and guarantees secure, stable and controllable networking at all times.
Request:
Until now, the locations of Topp Holdings GmbH were connected via MPLS lines. However, since the previous provider does not offer MPLS lines everywhere, this solution has reached its limits. It also takes time to set up the lines, which makes the expansion of new locations costly. The company still needed a secure connection, but with greater flexibility and expandability.
In addition, Internet telephony had to be set up – another point that requires a fast and stable Internet connection.
Challenge:
Today's corporate networks have to meet significantly more requirements than just a few years ago. As digitalization progresses, the demands are also growing, and in order to survive in the market, they must be met. The expansion of a company with new branch offices requires a complex network structure to ensure that communication and data flow between the locations functions perfectly. The stability and speed of the connections must be guaranteed at all times in order to avoid loss of revenue due to work stoppages.
Our solution:
With the new and innovative routing software of 128T we have bundled all the advantages of various network technologies in one.
The multi-line management guarantees a stable connection and thus trouble-free operation. If a line fails, the data traffic is automatically moved to another free line without the user noticing. For the newly installed Internet telephony, this means uninterrupted communication at all times.
In addition, thanks to 128T, existing bandwidth is now used more intelligently, allowing data to be transferred faster.
The entire network can now not only be centrally monitored, but also managed and configured via a single interface (Single Pane of Glass). Our customer can even plan and create new router locations himself. An extension of the network can be implemented quickly and easily with 128T. The innovative routing software offers highest flexibility and could convince our customer in all aspects.
Last but not least, a significant cost saving could be achieved by the MPLS replacement.

Our network all-rounder
We have put together a very special package: With ambiWAN you have everything you need for a secure and high-performance network.