Transparency for your network
We strongly believe that Juniper's Session Smart Routing technology will take today's networks to a new level worldwide. At ambiFOX, we already operate the most complex SSR network environment in the world.
But we are going one step further!
The innovative routing software from Juniper's 128 Technology includes the so-called Conductor. This is the name of the interface through which the entire network can be controlled and configured. The Conductor provides deep insights into the structure of a network and offers numerous functionalities. However, this also means that it is extremely complex – from experts for experts, so to speak. And this is exactly where we come in with our specially developed nocware® portal.
We have made it our business to develop a tool that does not require a technician or even a Session Smart Routing expert to use. The portal is a management and monitoring tool at the same time, it is user-friendly and intuitive to use.
This extension to the Session Smart Routing software can be used by both the provider and the end user to control and monitor networks. Just leave the technical part and support to us, while you always keep an eye on your networks – whether in ambiFOX nocware® design or as a whitelabel solution in your own branding.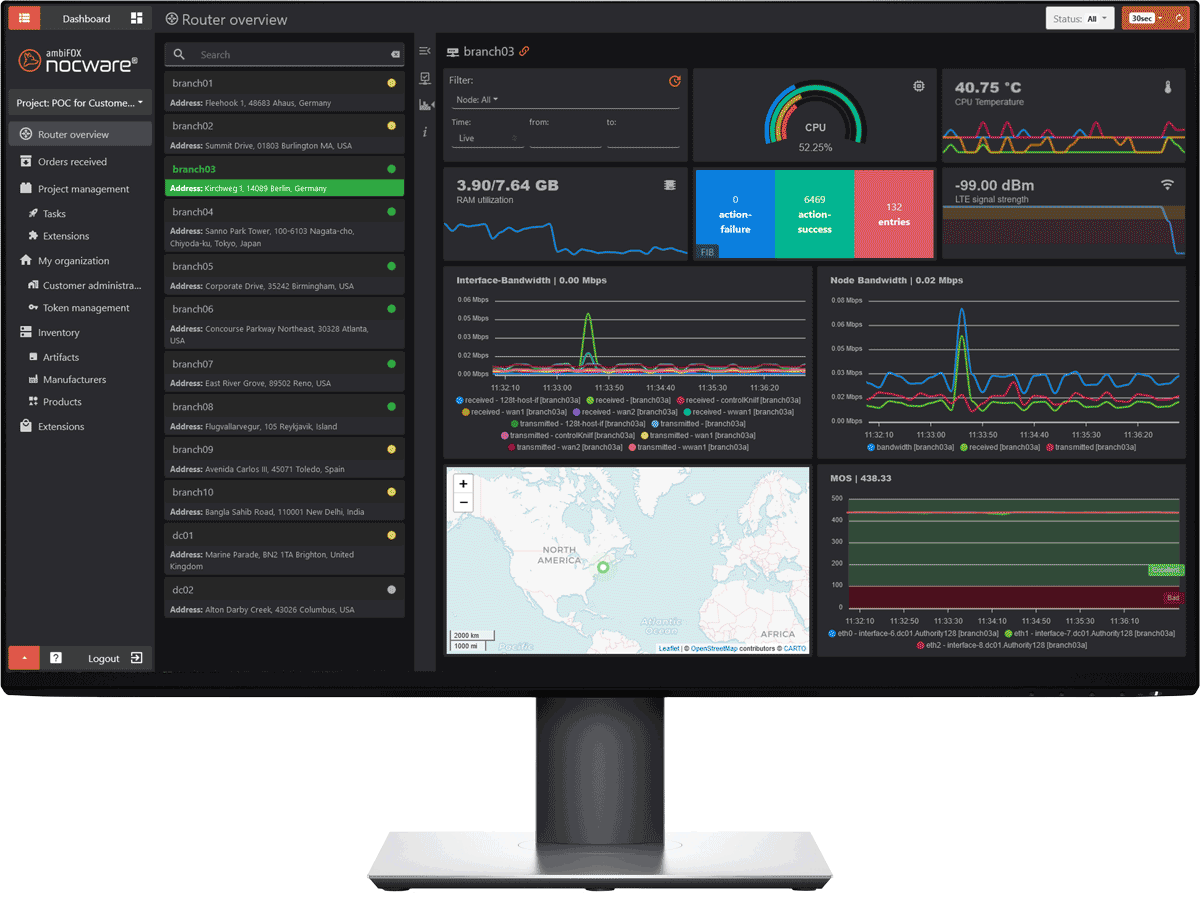 | | | |
| --- | --- | --- |
| | 128T native conductor | portal |
| User type | 128T trained | 128T novice, non-technical, semi-technical |
| Config access | Advanced data model subject to RBAC | Simplified through operator defined and template |
| Platform Scaling Model | 2 active-active node cluster per Authority | Cloud based microservices |
| Configuration management | | |
| Router lifecycle management | | |
| Low level system access | | |
| Monitoring | | |
| Alerting (SMS, Email, etc.) | | |
| Ux re-branding and customization | | |
| Inventory management | | |
| Marketplace, ordering, service delivery | | |
But that is not all. Due to our years of experience in the network sector and especially our know-how in setting up networks based on Session Smart Routing, we know exactly which requirements exist on the market and where the customer has problems from time to time.
Therefore, we have closed some gaps with our enhancements and developed automations and functionalities that allow networks to be set up and managed easily and in the shortest possible time. We can also claim to run the most complex Session Smart solution in the world.
The table on the left shows which features we have improved in the Conductor and which additional features our nocware® portal offers.
And we would not be the ambitious foxes if we did not permanently work on optimizing processes even further and automating time-consuming procedures in order to make life easier for our customers by saving time and money.
To get an overview of the functionalities of our portal, just have a look at the list below. This list is updated regularly and keeps you informed about which features are already implemented and which are planned.
You have a suggestion for improvement or an idea for another functionality that could optimize the network? Then write us!
Feature list nocware® portal
See what our nocware® portal can do, which new features our developers are already working on, and which are still vision but are waiting in the wings to be implemented next.
In our release notes you can see in detail which new features, improvements and bug fixes we have implemented.

Automated Rollout
This feature already enables the standardized rollout of 128T routers. Each individual router is preconfigured by us. After connection at the respective location, it installs the final configuration for the corresponding network fully automatically by means of specially developed tools.
More information is available here >>
Rest-API first
Our nocware® portal is available as a rest API. This gives us the perfect interface to integrate your own web apps, your own monitoring or your own ERP/CRM systems, etc.
Conductor Import
It is said that there are still customers who do the installation without nocware® and our Clone Proxy (more information here).
Existing routers and complete networks can therefore be easily added via a simple import into nocware®.
Multi Tenancy
The ambiFOX portal is available as a single instance to all customers and can be restricted via the authorization control. Thus, partners/customers/resellers can also be granted access.
E-mail Alerting
Analyzing network properties and system states is one thing. The other is alerting. If previously defined states are detected during the analysis of router KPIs, all predefined persons (whether on the provider or end customer side) are notified by e-mail.
External Reference
Almost all objects can be linked to your own ERP/CRM system etc. via the "External Reference".
This makes it easy to maintain internal contract relationships to the hardware, for example, or to store which ISP contract is connected to which LAN port.
Projects
The portal provides the possibility to organize certain groups of routers into projects. As a rule, a project contains all connected routers of a network, each of which can contain one or more conductors. A project can currently consist of up to 2,000 routers.
Web-GUI
All customers can use the web app with ambiFOX nocware® branding as standard.
In addition, we offer a white label solution where the web app is customized to your corporate design, for example with your logo and color scheme.
Simple Test
Our View link is a special link that can be used to open a predefined status page for a specific router in the web app. During a rollout, for example, this enables the on-site technician to view the status of the new router. He also receives recommendations for action if a value does not correspond to the predefined status. These automated checks make a rollout much easier, especially for companies with numerous sites.
Multi Language
The language can be changed by the provider in the standard web app. The available languages so far are English and German.
128T/Conductor Event Stream
Due to the perfect interaction of the Juniper 128T Conductor and nocware® we are able to react directly to every event created by the Conductor – for example with automatic updates of imported routers or by better and faster information flow in case of status changes.
Basic Router Management
Our portal offers the possibility to change router settings such as IP address, DHCP range, etc. in an intuitive and user-friendly way.
Notify me
Notify me makes it possible to control alerts even more granularly and also to execute them via other channels such as Microsoft Teams.
Network-Designer
In the future, networks can be configured in our portal via a graphical user interface – simply using wizard-driven drag & drop functionality. This allows to easily combine entire networks instead of tediously programming them via the 128T Conductor.
Juniper MIST & Marvis Integration
This allows us to roll out, configure and monitor not "only" Juniper 128T routers but also Juniper switches and entire WLANs with nocware® – and even AI-/self-driven.
Report Generator
The report generator is intended to realize the visualization, preparation and sending of predefined KPIs for specific time periods.
Self-Service via Router
Wizards can be used, for example, to set up new peers (128T connections) between routers or to change the prioritization of applications. This eliminates the need for 128T expertise and enables significant savings in the overall change and support workflow.
Router Security
Each router receives its final configuration via a special link (activation link). If, for example, the router is lost in transit, it is not yet integrated into the customer's network, which means that it cannot be infiltrated and security is guaranteed at all times.
Secret Rollout Star: our Clone Proxy
Our Clone Proxy can be described as the heart of the automated rollout process. Together with the nocware® portal and the Redirector, it ensures that the Juniper Session Smart routers receive the appropriate configuration completely automatically.
But how does it actually work?
As a customer, the first step begins even before you receive the router: Configurations and images can be set up in our nocware® portal – completely individually and depending on the requirements per router or project.
After being switched on, the router automatically reports to our Clone Proxy and gets the Session Smart version installed that is suitable for it. Up to this point, the router does not yet have its final configuration, but it can already be sent to the target site.
This has the following decisive advantage: if the router is lost, the security is guaranteed at all times that there is still no connection to the company network, thus ruling out the possibility of third parties gaining access to company data.