Would you like to participate in the further development, dissemination and support of the network of the future? Then become a partner of ambiFOX GmbH now.
Which benefit do you have? Read about it yourself.
Advantages of a partnership
When companies in the same industry but with different focuses work together, this can offer decisive advantages for all parties involved. Especially if both sides are flexible and open-minded, there is a great potential for successful project implementation.
We are in regular contact with our partners in order to develop new ways of working together and always offer our customers the best possible service. Especially in the IT industry it is necessary to be always up to date and better still one step ahead.
Benefit from new ideas and more manpower.
Expand your portfolio with services that you can offer through us and open up new markets.
Enlarge your clientele with a more diverse range of services.
"Through the cooperation with ambiFOX we are now able to offer our customers individual complete solutions from a simple internet connection over a professional telecommunication up to the finished site networking. So the customer gets everything from one source and always the best solution for his company. The employees of ambiFOX are highly engaged and have an extensive know-how. We are glad that we can always rely on the foxes."
"We support ambiFOX in terms of operational services for your solutions, i.e. we take over service and maintenance orders. The communication is always professional and on eye level, so that we can complete orders fast, easy and in the interest of the user. In case of questions or unexpected problems a member of ambiFOX staff is always available immediately and is ready to help with words and deeds – an all-round service that convinces us and also the customers".
One portal – many possibilities
In order to facilitate the cooperation with our partners and to offer our customers a transparent and functional interface, we have developed a common platform, which is constantly being expanded with new functionalities.
Networks can be controlled and monitored via the portal. So far, access has enabled you to do the following:
New router locations can be planned. This enables an automated, mass rollout.
Orders can be placed and automatically go out to the supplier.
A purchase order overview keeps you up to date.
Hardware is monitored and the locations are visualized on a map. By displaying the respective router status, malfunctions can be detected immediately.
Users are administrated in the portal.
For our partners there are the following advantages in particular:
For resellers:
Customer data and all related contracts for project management can be maintained and managed.
For Engineers/Support
Routers are monitored and indicate faults and bottlenecks at an early stage so that the cause can be found and reacted to quickly.
For rollout partners
Orders can be viewed and processed at a central location.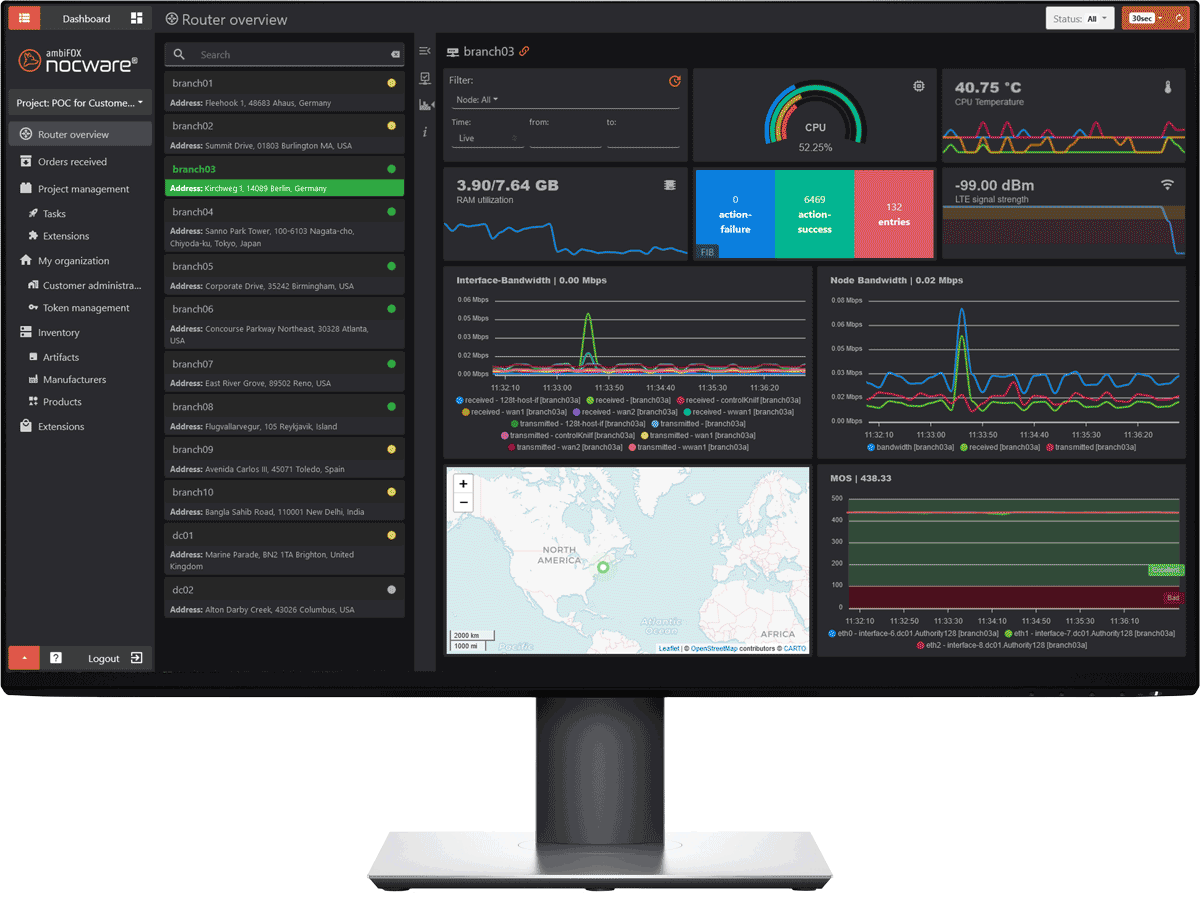 Would you like to become a partner? Then please contact us.